RV Insurance is Different than Auto Insurance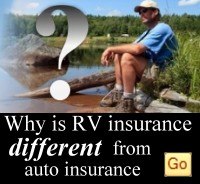 You have probably added your RV as a rider to your automobile policy. However, an RV is completely different than an automobile, and used much differently. From cooking to sleeping facilities, complex electronics, appliances, awnings & cabanas, antennas and eve satellite dishes, propane systems, etc. make the RV much different than the typical automobile. In turn, the typical automobile policy usually falls short in providing the special coverages that should be considered in RV insurance. Very affordable specialty RV policies are available, which provide enhance coverages to contemplate these unique differences between an automobile and an RV. Considering the investment you have made in your RV, it is worth your while to review the following items and consider a specialty policy
Replacement Cost vs. ACV (Actual Cash Value). Most auto policies will settle a total loss to the RV on an ACV basis, which means they will depreciate the RV based on age and mileage which usually results in an inadequate settlement. Replacement coverage on a specialty policy eliminates depreciation and allows you to replace your RV with a new one of like kind and quality, regardless of cost.
Protection for Your Personal Belongings. Auto policies strictly limit or restrict coverage for RV contents. Specialty RV policies have higher levels of replacement cost on contents included automatically. You can also increase your contents coverage to match the value of items you carry with you such as sporting equipment, housewares, electronics, etc.
Roadside Assistance Coverage. Unfortunately, all types of unexpected surprises occur when you are on the road. Should you need help with any of these events (jumpstart, tire change, fuel delivery, lock out), 24/7 assistance is only a phone call away.
Emergency Expense Coverage. If your RV is immobilized or unlivable, a specialty RV policy will provide reimbursement for extra expenses incurred for such things as motel rooms, restaurant food and even expenses for alternate travel to or from your destination.
Deductible Reduction or Elimination. Your deductible is decreased by 25% per year for every consecutive claim free year. You could possibly have a zero deductible applies to your loss. Safety is rewarded.
Vacation Liability. Someone trips over your electrical cord, burns themselves in your campfire, trips down your steps and injures himself. All kinds of unexpected things can happen. Vacation Liability provides basic campsite protection for you when these types of events occur.
Towing Coverage. Towing coverage on a specialty RV policy can be obtained to cover the reasonable & necessary cost of the tow without policy limits. The cost of towing an RV can be substantial, and can well exceed the limits of an automobile policy. Only certain repair facilities can perform the type of service need on your RV
Mexico Coverage. Mexico coverage is typically excluded in most automobile policies. Specialty RV policies are able to provide physical damage coverage on your RV when traveling into Mexico.
Outstanding Principal Balance Coverage. If your loan balance exceeds the RV loss settlement, this coverage pays to eliminate your outstanding loan balance.
Discounts. Discounts are given for such things as association membership, defensive driving courses, anti-theft devises, alarms and more.
Enhanced Claims Response and Settlement. Specialty RV companies recognize the need for fast, fair claims response and payment to get you back on the road. Specialty carriers usually have large networks of claims adjusters throughout the country ready to respond when you need them.
Convinced yet? Just remember that all RV insurance is not alike, especially if you have your RV insured on a vanilla automobile policy. Contact us today so that we can help explain, or elaborate on, any of these coverages.